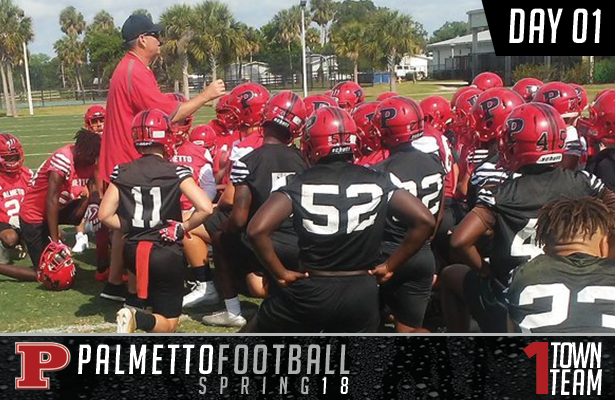 PALMETTO, FL – The Tigers started their 2018 Spring football practices on Monday.
Familiar Faces & Key Returners  
Anthony Marino (QB), Lajohntay Wester (WR), and offensive lineman Lee Mathews, Ethan Ingham, and Luke Gullet were all present and accounted for during Monday's practice. According to coaches, these core players are critical returning pieces of the offense that led the team to the 2nd Round of the FHSAA 7A-11 playoffs last season.
On the defensive side of the ball, the Tigers look to make some changes to try and help solidify and improve on last year's defense. Reese Lyons, who played defensive line last year, moves back a spot to outside linebacker in an effort to bolster the front 7 and put more speed on the field. In fact, the Tigers face a monumental challenge during spring – replacing the entire secondary as well as replacing 2 all-area 3-year starting inside linebackers.
Early Names to Watch 
Kendall Reynolds, Tyler Waters, and Gave Avendano all have the early look to be able to move around the defense and step up to fill the empty slots. Brandon Waiters, a starter at outside linebacker last year, is potentially moving to inside linebacker.
The Tigers look forward to a healthy and successful spring. For more information, stay tuned to PalmettoTigers.com for daily updates on spring practice as well as photo's, quotes, and video from our players and coaching staff in the upcoming weeks.