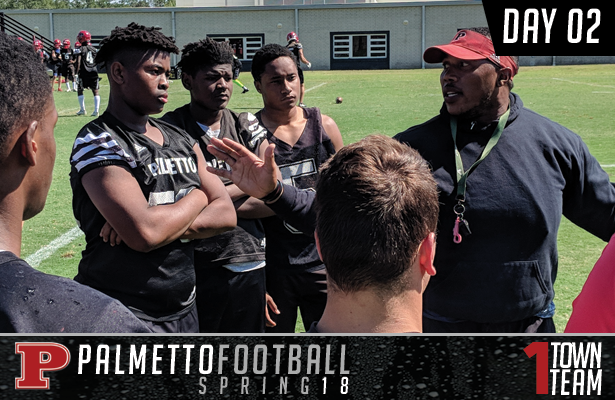 PALMETTO, FL – The Palmetto Football team received high praise from coaches on Day 2 of Spring Practice.
The Palmetto Football team, who worked drills without pads on Tuesday, spent most of the practice in individual drill periods and working on fundamentals.
"I couldn't be more happy with the progress and the effort they are giving," stated Head Football Coach Dave Marino at the conclusion of Tuesday's practice.
Secondary in Progress 
Coach Marino addressed early concerns of replacing many members of a talented secondary that departed last season. "We're definitely fortunate that we have a lot of kids that will compete to fill those spots. We have a lot of talented kids we feel good about."
Marino mentioned that the coaches were feeling good about Ellison Bradley in the secondary. Coach Braselton mentioned that "Ellison Bradly has had a tremendous offseason and is a great kid – in the secondary he's one to watch."
Coach Marino has opened up the available secondary positions to a few receivers to play on the defensive side of the ball.
"Derek Marino is over there trying to fill those spots, and we have Mike Goff returning with some playing experience and some varsity experience especially in the playoff stretch who played really played well for us. So he's a little bit of a piece of the puzzle for us."
Marino also mentioned that Tyler Wells has done a great job this spring and has gotten much faster.
"We have a lot of guys competing and we're looking forward to when the pads go on and who can separate themselves," Marino added.
In the Trenches 
Mike St. Juste, a transfer from Cardinal Mooney who plays offensive and defensive line, has many eyes upon him this spring to fill some of the holes lost to player graduation last season.
"It's crucial to make sure we fill those spots. (St. Juste) is a big, strong athletic kid and we're blessed to have that transfer come in."
Offensive Firepower 
Returning a host of familiar faces on the offensive side of the ball, the Palmetto offense is poised to pick up where they left off last season according to Marino.
"Johnny Jones and Ryan Petitfrere – We got a stable of backs –  we got all our receivers back with experience, our quarterback back, and some lineman up front back  – we feel good about our opportunity."
Marino believes the key will be to see how they grow together and become a tight knit group.
"How quickly will that happen? How quickly will they progress and improve as a unit? That's the challenge but also the excitement of it," commented Marino.
Marino added that the group of players on the field may be lacking in experience, but the talent level has never been higher.
"They're probably as gifted, or more gifted, than the kids that we've seen over the past 3 years," Marino said. "The opportunity is there – but the work still has to be done."
Defensive Line Update  – Coach Braselton 
Returning 2 rotational starters, the defensive line has this spring to find the players ready to step up to fill out the available starting spots.
"During the evaluation period all the guys have given great effort, but we're still in basic fundamentals right now. We're about to find out who really wants to play d-line and who wants to be fast and physical and just excited to play football," Braselton commented.
When asked about early position changes, Braselton said the early plan seems to be bearing fruit.
"Matt Wyatt will play a little more 3-technique, which is our strong side d-tackle, and he will play some defensive end in some packages. Will Rumph will see action from the defensive end position to the 3-technique position as well. Those guys will be interchangeable."
A notable position change from the defensive line will be the departure of Reese Lyons from defense live to outside linebacker.
"We think he'll have a greater impact on the run and passing game at that position and we're excited to see his development at that position," Braselton commented.
Braselton mentioned that Kendall Reynolds and Floyd Dozier will be the ones to watch.
"Kendall will be a Junior to watch and Floyd, who is a freshman and participated in the playoff run,  is a defensive tackle that could really have an impact. Great feet, great hands, great kid," Braselton commented.
Stay tuned to PalmettoTigers.com all spring for updates.