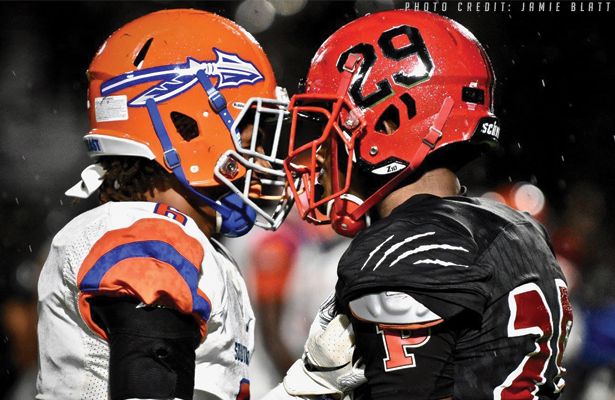 PALMETTO, FL – The Palmetto Tigers (1-0, 0-0) lit up the scoreboard via their high-powered offense against the Southeast Seminoles (0-1, 0-0) at Harllee Stadium on Friday night.
Senior signal caller Anthony Marino accounted for 6 total TDs (3 rush, 3 pass) and has proven to be electric thus far into the season. Marino was 9-of-12 passing for 189 yards and 3 TDs through the air and added 28 yards and 3 TDs on the ground via his deceptively-quick feet. Despite a 40+ minute rain relay, wet conditions, and rain throughout the game, Marino was able to lead the offense to a 41-7 lead at the half before eventually being pulled out of the game.
The Palmetto defense forced 3 fumbles via Mike Goff & Sagel Hickson, while the Palmetto special teams added another forced fumble as time expired in the first half. The Tiger defense sacked Southeast 9 times – completely disrupting the Southeast offense throughout the game. Southeast's lone score came on a under-duress desperation pass to a wide-open receiver for a 45-yard touchdown.
Palmetto's missed extra point in the first half saved Southeast from a running clock to open the 2nd half. However, just one minute into the 3rd quarter the running clock began.
Interview with Head Football Coach Dave Marino 
On the Southeast Game
Marino was apologetic in his opening remarks to the team after the 54-7 rout. "Gentlemen, I want to apologize to you. It is my job to teach you everything about being a good person. I probably should have taken a knee the series before. That's my fault and I apologized to their coaches. You have to win with class. That's my fault," Marino said to the team on the field following the win. "We gotta go. This is one. But it's every game. We're going to honor (injured Palmetto player) David…we're going to win every game. Period. We got get ready next week for another heavyweight fight. Next week we go into Hawkins Stadium. We better be ready," Marino added.
When asked about takeaways from the game about Southeast, coach Marino eluded to the long-standing rivalry against Southeast. "It's a backyard brawl. A rivalry game. Those kids came in hungry and ready to play. And it was that right from the beginning. Their were turnovers back and forth and that goes to show you the emotion that's involved in this game. Our kids weathered that first round of emotion. I was proud of that," Marino said.
The Palmetto-Southeast rivalry is one close to home for many of the coaches on the Palmetto staff, as many played or coached at Southeast before moving over to Palmetto. Coach Marino spent 10 years at Southeast High School under the guidance of legendary coach Paul Maechtle serving as their offensive line coach. During his years at Southeast, he was a part of a coaching staff that won 8 District Championships, 3 Regional Championships, 1 State Runner-up, and 2 State Championships.
Coach Marino spoke about the difficulty of losing a Palmetto player early on to injury and what playing for him means to the team. "David is the best teammate you could ever imagine. It was heartbreaking for us and the team. To suffer that kind of disappointment on a Wednesday and then come out here and rally back and come out today focused and ready to play – I'm proud of that," Marino added.
Coach Marino was pleased with the offense but gave the most credit to the growth of a young Palmetto defense as the most impressive factor of the game. "We knew going in that the offense was the strength of our team," Marino said. "Defensively, is where I'm most proud. They're developing everyday, with every rep. The growth of our guys as they get comfortable within our schemes makes me the most proud."
When asked on what the team needs to do to improve as the season progressed Marino added, "We got to be smarter. If we're going to be a championship football team, and that is our goal, we have to be smarter. We can't self-inflict penalties – dumb penalties. We're going to keep getting better – coaching these kids on how to be champions and how champions play. It was a good win for a rivalry game."
On next week's game against Manatee
Coach Marino knows that the game against Manatee next week will be a true test of all aspects of the Palmetto football team.
"We're going to have another tough test. Manatee is loaded with weapons and it's going to be a challenge for our defense."
Palmetto plays next in the Cross-River-Rivalry against Manatee at Hawkins Stadium on Friday. Palmetto defeated Manatee 35-7 last year at Harllee Stadium.
Player Interviews 
Anthony Marino – Quarterback (#17, Senior) 
Marino said that the Palmetto team came out a little rough and mentioned the early turnovers in the game but after settling down the team came together.
"Throughout the game I had David on my mind. I grew up with David since I was with 7 years old. It was touching for me. Just to come out and play together, stay together, and communicate – we did our job. We worked throughout practice with David and then without David – we just had to come together as a team."
"Trust in each other. That's all we can do. We can come out everyday knowing we can do it just because we have big guys – but we have to do the work. If you're not willing to put in the work, you're not willing to be great. That's just my mindset everyday. I just try to implement that in our team as well."
"Definitely big. Big players from people like Sagel Hickson & Logan Pizano. (Logan) stepped in as quarterback and was very good. He was poised back there and he'll progress – God forbid something happens (to me) he'll be ready to step up and be that next guy in line."
Quick Links: 
TigerVision Broadcast: Southeast v. Palmetto (Broadcast)
Game Recap Page: Southeast v. Palmetto
Additional Media Coverage: Herald Tribune