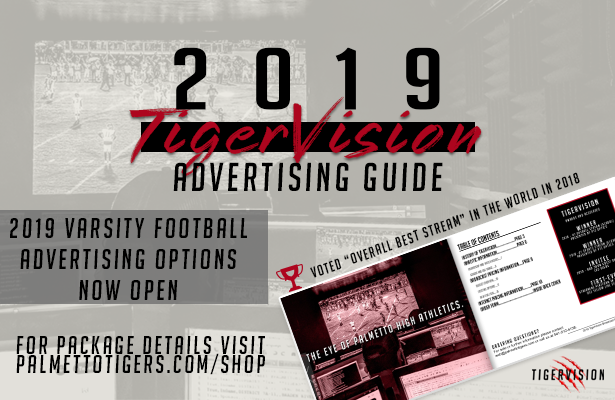 2019 Varsity Football TigerVision Advertising Options now open.
Double-click in the image above to view the 2019 TigerVision Advertising Guide full-screen. 
Looking to reach a large local audience at a fraction of the costs of TV providers? Maybe you want to showcase your TigerPride™ to the local community and throughout the world? If either of these is true, TigerVision a complete package that offers complete customization to fit your business needs.
Entering it's 8th season in operation, TigerVision is a globally-recognized volunteer-run organization that has grown exponentially in the previous 7 years. Our mission remains the same: Providing Palmetto student-athletes the positive exposure they deserve. TigerVision operates independently from Palmetto High School, and in no way receives funding from the school, school district, or other taxpayer sources. TigerVision operates truly as a #OneTownOneTeam community effort.
2018 proved to be a monster year of growth for TigerVision. TigerVision was watched over 54,000 times and for over 14,500 watch hours during football season. Our reach also expanded to all 50 states and 29 countries. Additionally in 2018, TigerVision was awarded both the #1 Sports Stream in the World and the #1 Best Overall Stream in the World presented by PTZ Optics.
In early 2019, TigerVision was invited as a guest speaker at the National Association of Broadcasters (NAB) in Las Vegas on the topic of streaming school sports at the highest broadcast level. Additionally in 2019, TigerVision was offered to be the first ever streaming outlet and high school in the world to utilize the "Yellow Line" technology.
Unfortunately, bringing the cutting edge of broadcast technology available at the streaming level isn't affordable. In our 2019 budget, 6% is designated for Travel/Fuel, 24% for Maintenance/Licensing/Insurance, and 70% for equipment. It is important to note that our core component in budgeting/spending remains the same – advertising dollars go towards the enrichment and enhancement of our broadcast – with 0% of our 2019 budget allocated for employee compensation. It has been and will always be that our goal is to provide the best broadcast experience available to promote our student-athletes – free of charge to our viewers.
Does your business fit the TigerVision model? We hope that you will consider joining the Vision behind our broadcast team this year by purchasing one of our affordable advertising options this season.
For ordering and other inquiries, please contact web@palmettotigers.com or call us at 941-212-4138. 
For online ordering please visit: The P Shop