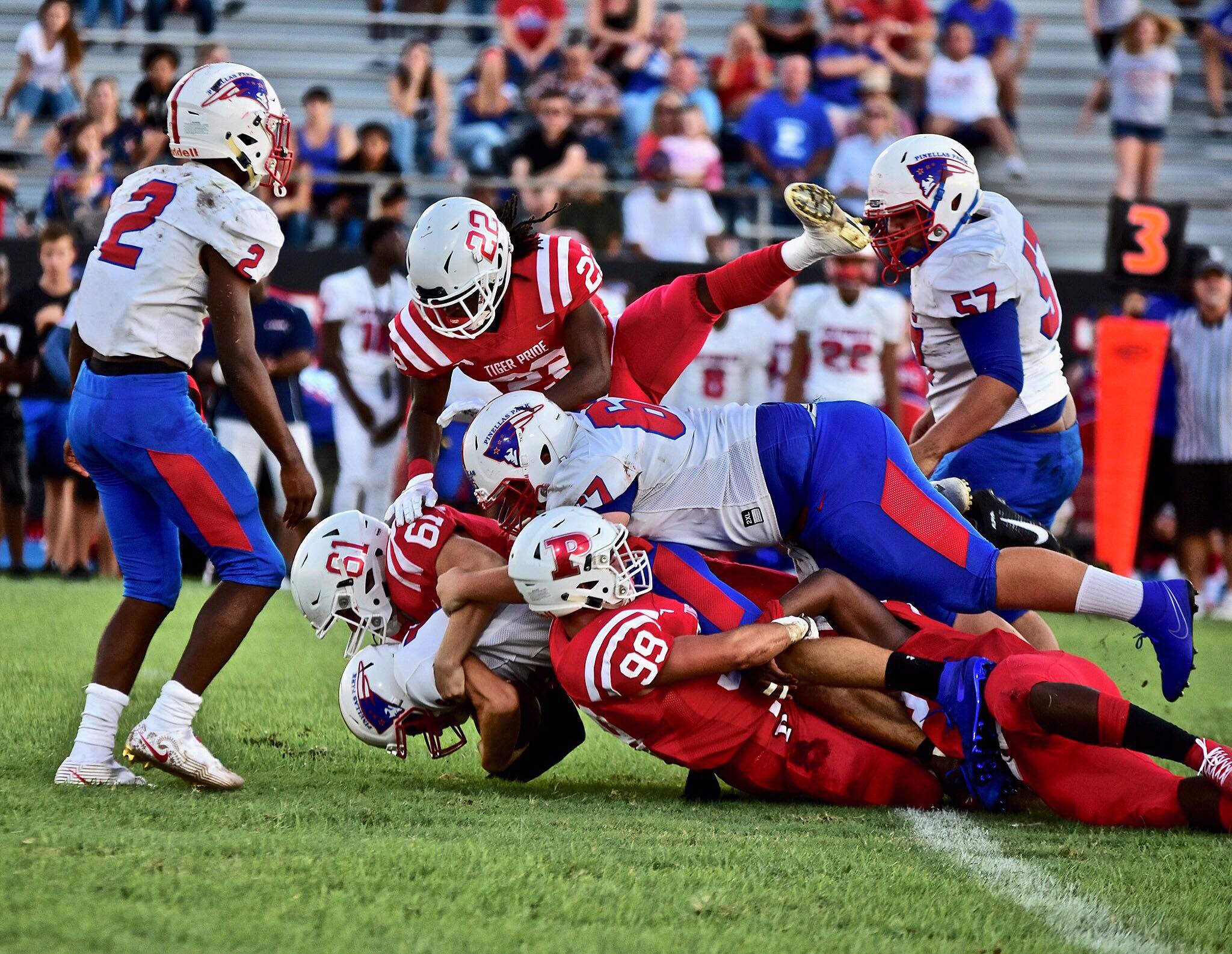 PALMETTO, FL – The Pinellas Park Patriots (0-1,0-0) set to avenge their last 2 season playoff losses against the Palmetto Tigers (1-0,0-0) Friday night at Harllee Stadium in Palmetto. However, the Tigers defended their streak with a solid 4th quarter performance to make it 3 straight over the Patriots.
"(The Patriots) are a championship team, we beat them, but we have a lot of work to do. But we've got to get better," Head Coach Dave Marino said after the game Friday night. "We have to have a good practice Monday and prepare technically and schematically much better if we're going to accomplish what we want to do."
"We have to get better up front. Their front five were better than our front five. We won on the scoreboard, but they beat us in the trenches," Marino added in an interview with the Sideline Reporter for TigerVision, Tom Porter.
Tiger Defense Looks Much Improved in 2019
Last year Palmetto featured a powerful offense, but often the defense proved to be the Achilles heal of the team. With Pinellas Park featuring a Florida State commit at running back, Lawrance Toafili, many eyes were on if the Palmetto defense would be able to slow the run. Toafili was effective, running for 118 yards and a touchdown, but he would be responsible for the Patriots' only score of the night.
"That's high school football – we had a mass exodus on offense last year, but defensively we did not. We added some pieces – good pieces – on defensive. We had a lot of depth and good football players," Marino commented.
Coach Pat Cucci added that this year is similar to all other years – in that if the Tigers don't give up as many points as the other team, they're going to win. "Our defense has a lot of leadership this year – every single guy shows up ready to work everyday. Even our second team guys are good which pushes our first team guys further," Cucci added.
From the players perspective Matt Wyatt offered "We got to come out strong every game – like we're going to kill everyone. Ready to play, know our calls, be in position and know what to do."
Offensive Concerns
The Tiger offense looked out of rhythm early in the game – perhaps due to first game jitters.
"First game, so, obviously, we have a lot of moving parts out there," Offensive Coordinator Ty Stoldt added after the game. "Obviously we wanted to come out here and roll like we usually do, but it's a work in progress. We had some guys answer the call tonight and overcome the adversity to put us up enough points." Stoldt added.
Curtis Thomas was a highlight on offense for the Tigers, with 4 receptions for 85 yards and 2 touchdowns. When asked about capitalizing on his opportunities in Friday's game, Thomas noted "I'm always the underdog, but now they know what I can do."
VISIT THE GAME RECAP PAGE HERE