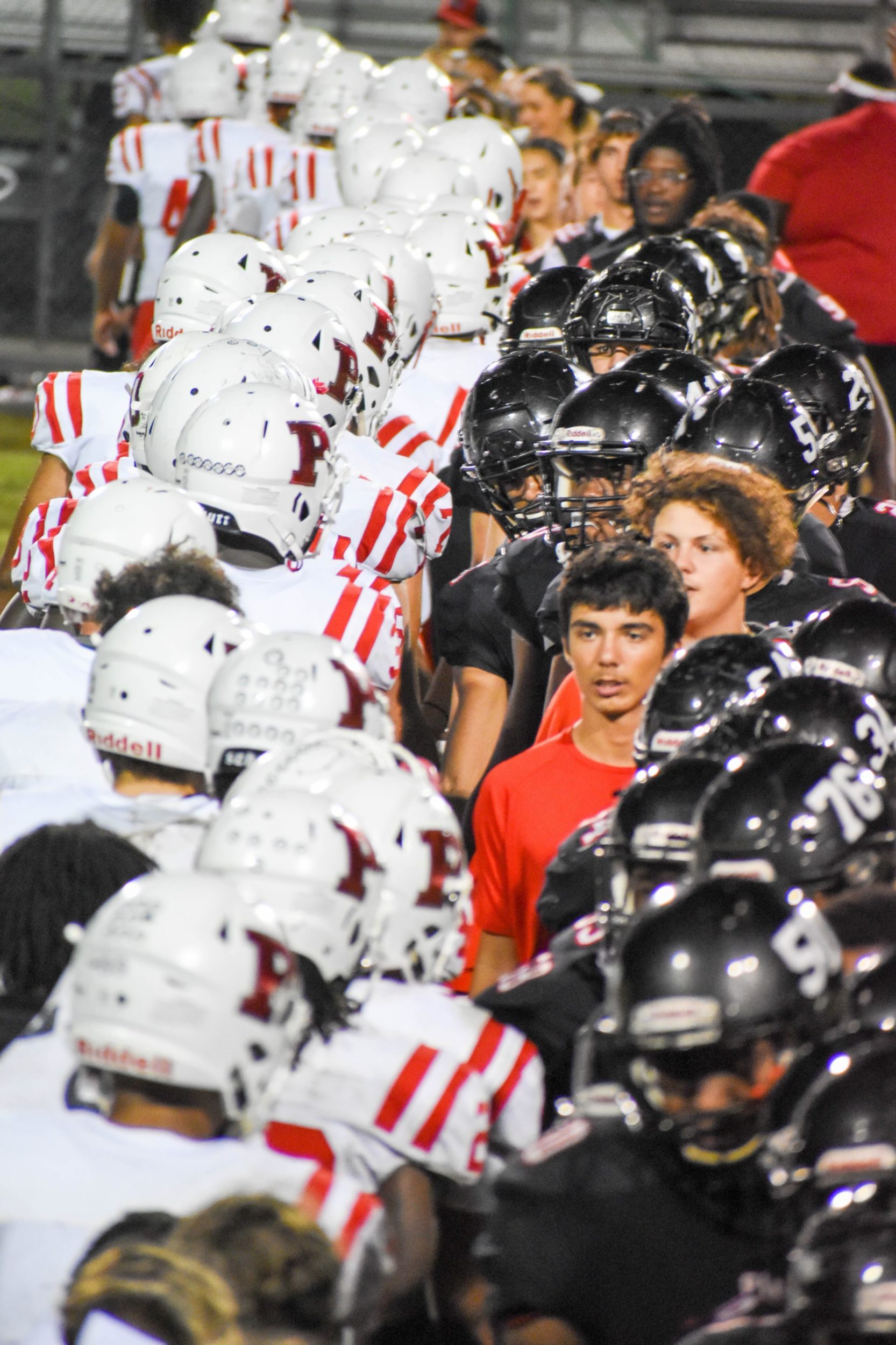 On Friday, September 13th, the Palmetto Tigers (3-0) took on the Port Charlotte Pirates (3-0) in what was supposed to be an intense district battle that ended as a landslide victory for Palmetto. For the first time this season, Palmetto really started to look like the team they should be playing like. Despite being 3-0, head coach Dave Marino was all but satisfied. The way he and the rest of the coaching staff saw it that the Tigers were not playing to their full potential. During the week leading up to the Port Charlotte, there was 3 mottos: "You haven't done anything yet", "Somebodies 'O' has got to go", and "District week." It's that "never satisfied" mentality that drives Palmetto to stay hungry and defeat their opponents.
The weather was perfect for football; overcast with a light breeze. On the opening kickoff, senior Lajohntay Wester returned the kick all the way to midfield. The Tigers opening drive then stalled out which led to a field goal from Raphael Gonzalez to put the Tigers up 3-0. Palmetto's defense was lock down. Senior linebacker Mikell Brown led the team with an astounding 17 tackles and new free safety transfer from Tallahassee, Jacquez Hughes, played lights out with an interception (could've had 2 but one was called back) and a forced fumble who would then go on to be named defensive player of the game. Offense also so exceptional performances from junior running back Robert Gavin and seniors Xavier Williams and Eddravian Butler.
At halftime the score was 27-0. Coach Marino always preaches one thing more than anything else: finish.
"When you have your opponent against the ropes, stomp them out. Don't let them comeback," exclaimed a passionate Coach Marino in the locker room at halftime.
Port Charlotte ended up taking their second offensive series in the second half for their first and only score of the night. Palmetto quickly responded with a touchdown of their own and proceeded to score 20 more points. While the offense continued to make the scoreboard sing, the defense continued to dominate. Ending the night with 4 turnovers the Tiger defense now has 16 turnovers in just 4 games. Next week Palmetto travels to Largo to take on the 3-1 Packers in what should be another exciting match up.