TRADITIONS
Palmetto High School
Palmetto High School opened in 1957 and was rebuilt in 1999. The school's athletic teams are known as the Tigers, and the school colors are red, white, and black. The school resides in beautiful Palmetto, Florida just south of Tampa Bay, Florida and it's enrollment is approximately 2,000 students.
Red, White, and Black
The exact colors for Palmetto High Athletics are (shown as hex colors):
Red: #ad051e
White: #ffffff
Black: #000000
Our Logo – The Palmetto "P"
The Palmetto "P" has always been a trademark signature of Palmetto's athletic programs. Although the "P" has altered throughout the years, the official "P" of the current Palmetto Athletic programs is depicted here: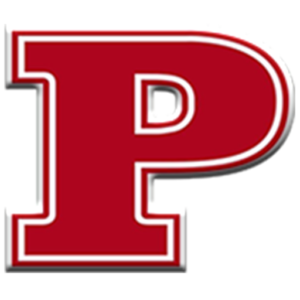 The current rendition of the Palmetto "P" was a product of current Head Football Coach Dave Marino and was adopted by the Palmetto High Athletic Booster Club, PalmettoTigers.com, and throughout the Palmetto High Sports Network. 
The Cowbell
Adopted in the late 90s, The Cowbell has grown into a popular tradition at Palmetto Football games. Possibly derived from a tradition honored at the nearby Tampa Bay Rays, the cowbell honors the agricultural history of the City of Palmetto and been a fan favorite for over 20 years.
Hats off to The Band
Starting approximately 10 years ago, members of the Varsity Football team remove their helmets and join the band after each football game.